to Lake Street Design Studio & Renee Guthrie Design
To experience the character and charm of Lake Street Design Studio please visit our Petoskey Gaslight District location, 404 East Lake Street, Petoskey, Michigan.
Happy clients with beautiful homes is our first priority.
Our expert interior designers are waiting to consult with you.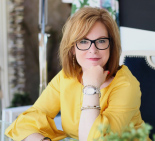 Principal Designer and owner of Renee Guthrie Design has been designing one of a kind spaces for 20 years. Since 2002 Renee's passion and commitment to her clients and their needs has earned her an exceptional reputation that spans Michigan and Florida.